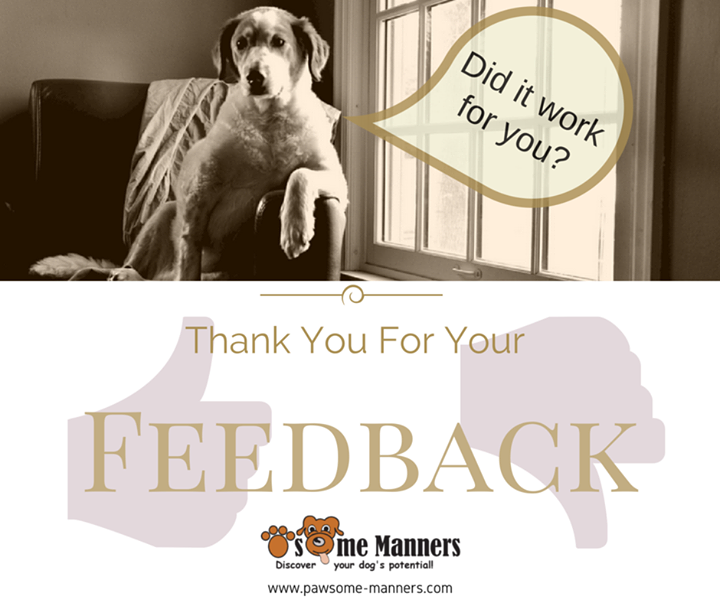 We appreciate if clients let us know what worked best for them and where we can improve to more fully meet their needs!
Gen

Our goldendoodle can be trusted not to leave our property, come back when she is called, sit when asked, stay when asked and generally is a joy to have in our lives.The best exercise was to constantly reinforce positive behaviour. No matter when our puppy came in to the house either with us or on her own, she got a treat and this really worked when we called her to come home. That was our main aim – we really wanted to ensure that she was safe and always came when called and this is happening and happened very fast after the training.

Nicole was just super. She listened to us and geared the training to Gen and worked with her to show us how to get the best results in a very easy and positive way.

I would just like to say that Nicole was super, the positive reinforcement worked a treat and our puppy is just perfect.

Thanks a mil for all your help!

Maria Rafferty
Daisy
Your 3 second rule is genius as there's been a total transformation in Daisy's attitude towards me. She's back to her old self and we've no issues with the harness. She's such a relaxed dog now. Can't thank you enough for your fantastic advice and will pass it on to my daughter and sister who have dogs.

Best wishes

Denise O'Connor
---
Winter
All going ok with Winter. Your expertise helped but Winter still a bit bitey, so we're all working hard on that. He is definitely improving and tries to redirect himself when we say no and walk away. He grabs a few toys instead of our arms. So we are getting there slowly…its really us that has to work hard and be consistent.

The basic training and hand outs you gave us really helped, so I wouldn't change that approach. I look through to remind myself often.

So a lot done more to do…Thanks for the follow up and giving us the confidence to begin with, with our new puppy.

Sharon Adderley
---
Buster
The most important goal achieved was being able to take control of a situation where our dog was biting/pulling on our clothes. We would have reacted immediately and tried to reprimand him which he saw as us being playful. We have now learned to not engage with him when he acts like this. He doesn't display this behaviour any longer and when it does occur we implement the training and it stops immediately. The idea of getting rid of our dogs food bowl and making him "work" for his food is a brilliant idea, he is more stimulated when we scatter our food and use toys. getting Buster to go to his mat has also been beneficial when getting him to settle down with one of his toys. The service was superb, Nicole is very friendly and professional. A great listener and gave us so much support and hope when we were close to giving up on trying to train our dog. I highly recommend Pawsome manners, there was so much I didn't know about dog behaviour . The training is easy to learn and having the handouts etc.. is really helpful so you can always refer back to every now and again. Our dog is certainly better for it.
Gemma Kirwan
---
Yoshi & Ryuu

Things have improved quite a bit between our two dogs and we have been able to use a number of your training tips with them both.
Many thanks,
Anne-marie O'Riordan
---
Roxy



Was lucky to find Nicole when looking for a dog sitter for my Roxy while I was going to be away. Can't recommend her enough! Have never seen Roxy so relaxed after I've been away, she settled down immediately into her routine with me again from the first day back. Nicole was excellent with her, and the picture update mailed each day meant I was totally relaxed that everything was going well while away and I could fully enjoy the holiday.

Will be very happy to have her look after Roxy next time I'm on hols, and it was an added bonus to have the house checked on, and the lights turned on/off as needed so the house didn't look empty. Super service!

Scott McDonald
---
Dash



The most important thing to us has been getting the basics right early on. Our primary goals were bite inhibition and toilet training, and with the guidance that was given we were able to resolve these within a matter of weeks of our first session.

The practical examples in our own home made a big difference, it's a lot easier to relate concepts etc when you are there. I think some of the most useful things were not just the specific training exercises, but also tips, for example on feeding (around making it interesting through use of a Kong, hiding food etc). Being able to have you come to our house and focus on specific issues, before we could even take Dash to a training class meant we were able to nip negative behaviors in the bud.

Many thanks again,

James and Claire Chew