A reminder to
treasure every moment with your best friends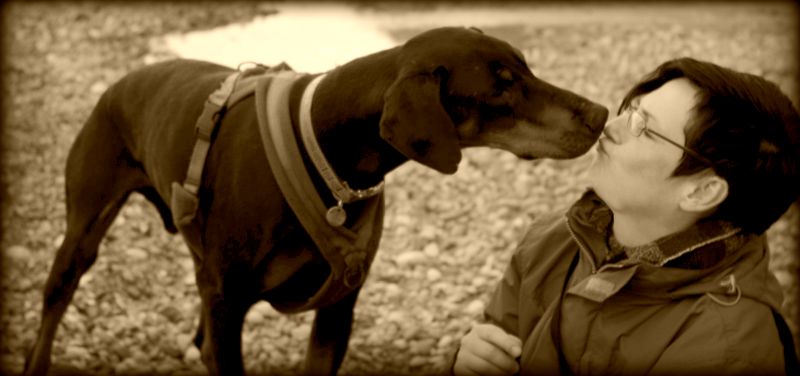 Dexter left us unexpectedly two weeks ago. Of course, I knew it was going to happen some day but I wish we had a bit more time together. I still can barely believe that he is gone for good and often expect him to come walking up the hill in our garden any second.
I remember the day that our paths crossed as if it was yesterday. It was not love at first sight, though. Instead we had to put in quite a bit of work to get to know each other and to establish this wonderful, trustful relationship that we enjoyed over the last few years.
It is probably safe to say that he had a bad start in life. Somehow he had ended up in the dog pound – emaciated, full of worms, a partly split ear, an eye infection, various broken teeth, a bullet stuck in his hip, a crippled paw and an endless number of smaller wounds and scars. Who could blame him that he was not really interested in humans at this stage?!
As soon as he got in the car at my friend's house who had managed to get him out of the dog pound it became clear that this was not going to be easy. First thing, he started to rip up the cushions that I had placed on the back seat for him and I very much feared that he would not stop there but go for the seats itself. Luckily, he did not, but instead he barked and whined almost the whole way home – one and a half hours! He must have been terrified and we almost went deaf during this journey. I still wonder how we made it home that day.
Apart from the fact that he did not like car rides, he had obviously never lived in a house before and was not toilet-trained, barked at the TV and showed slightly fearful responses to other normal household noises and devices. I also remember the first few days when he repeatedly scratched his injured ear and then shook his head leaving our kitchen covered all over in blood splatters – the perfect Halloween decoration, only that it was not that time of year.
Over the next few weeks we managed to heal his wounds and more or less nursed him back to health. With his health improving he became cuddlier, more attentive and started to learn really quickly.
However, as he became more confident other problems emerged:
He

did not seem to get on with most other dogs and over the next years we consulted various dog trainers and canine

behaviourists

to work on this.

He also was a

n extremely

dedicated

and skilled

hunter and could not be trusted with any other pets,

livestock

or

wildlife

.

H

e

killed

rats and

several

birds in our garden

.

At o

ne time

,

he almost caught a cat that had

ventured into

our garden

– not a nice experience for us!
These kind of traits and skills made life a bit more complicated for us and we struggled more than once in the first few years to get back to a reasonably "normal" way of living. We had to put a lot of effort into keeping him and everybody else safe – we knew we had a huge responsibility resting on our shoulders. Over time we had become really good at it, though.
I certainly know that Dexter was not a dog for everyone, nevertheless, despite all the struggle he was the perfect dog for me! He made me learn more about canine behaviour and training than most other dogs would have ever done. He was a fantastic partner during my studies to become a qualified Canine Behaviour and Training Technician who helped me not to give up and believe in myself.
Although, many people judged him/us due to his breed and his dislike of other dogs – he was a great dog and the best match for me at the time! Everyone who took the effort to get to know him soon discovered what a funny, clever and loyal friend he was and that he more than deserved to be loved the way he was!
At this point, I want to thank Ilse Sas, Anne Rogers, Tara Choules and Sabrina Phelan Bakar for their support throughout the years and for helping me to achieve the knowledge and necessary skills to build such a strong bond with Dexter.
I was truly honoured to have you in my life and I will never forget you, my special boy! R.I.P. Dexter